Posts

: 442


Points

: 6890


Reputation

: 0


Join date

: 2015-02-01


Age

: 21


Location

: Ice Caves

Character sheet


Elemental Type

:

Ice Elemental




Health

:


(200/200)




Magic

:


(200/200)
on Thu Jan 07, 2016 11:46 am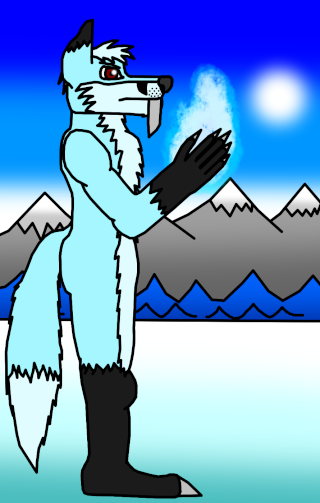 ICE ELEMENTAL PROFILE:
Usual Alignment Type: Neutral
Usual Alignment: Good
Personality: Cool, Relaxed, and Calm.
Strengths: Water, and Electricity.
Matchups: Fire, and Lava.
Weaknesses: Earth
Notable Features: Sabre-teeth fangs, blue flesh that is half ice.
Average Height: Around 6-7 foot tall.
Average Weight: 240LBs
Environment: Cold places, such as the Mountains.
Rival Elements: Fire and Lava.
Traditions: None
Beliefs: Ice Elementals believe that Snow is a gift from other Ice Elementals that have already passed on, and that, the snow brings good luck.
Diet: Meat, and anything cold - like Ice Cream.
Description:
Ice Elementals are generally friendly, caring, and willing to help. In combat, they are an all-round Element; specializing in a bit of everything. Their main combat strategy is to freeze the target, and damage them while they cannot move. Ice Elementals are easy-going, and tend to spend time making the most out of their cool element.
Abilities:
Strength: 7/10
Speed: 6/10
Magic: 7/10
Defense: 5/10
Intelligence: 7/10
Traits:


Immunity to Ice.

Immunity to the cold.

Immunity to Poison.

Immunity to Diseases.

Can swim in freezing-cold water.

Can't get Hypothermia.

Can't be frozen.

Can control Ice, and even shape it!

Can breathe underwater.

Vulnerability to Heat.

Vulnerability to Heat Stroke / Hyperthermia.

Vulnerability to Fire.

Vulnerability to Lava.


Magic:


Ice Strike - A punch which is enchanted with the power of Ice; making the punch capable of freezing the target.

Ice Breath - An Ice Elemental's breath can easily freeze targets if they get too close; the Ice Elemental can even control how cold it is - to prevent their breath from unintentionally freezing whoever they're talking to during a conversation.

Icicles - An Ice Elemental can summon icicles at their will; to pick off targets at a distance, or to inflict damage on a tough foe. They can also control whether the icicle will pierce the target, or simply explode on them - so that the icicle freezes their target.

Ice Storm - A powerful attack that sends a storm of ice, snow, hail, and icicles at a group of targets; a very powerful attack all together.

Ice Ray - A devastating beam which is capable of freezing its target instantly; it can even be used against multiple targets at once, if the Ice Elemental moves the beam across the group of targets.

Ice Shield - A defensive spell that an Ice Elemental can use. The Ice Elemental can summon a strong wall of ice, and place it in front of them - or make Ice rise up from the ground; to use the Ice as a shield against an incoming attack.

Snow Storm - A similar attack to Ice Storm, only with snow instead; this is mostly used by Ice Elementals to push, and disorientate targets.

Ice Control - An attack mostly used by Evil Ice Elementals, but rarely used by Good or Neutral Ice Elementals; the Ice Elemental can take control of targets who are standing on Ice, or frost; initially slightly controlling just the targets' legs... but, the longer the target, or targets stay on the Ice or Frost, the more control the Ice Elemental has over controlling them - eventually leading them to have full control over their target; while leaving that target unable to control themselves.

Notable Ice Elementals:


Nitrogen - The father of Nitrous.

Nitrous - An honourary member of The Clan of Elements.

Frost - One of Nitrous' daughters.

Nitro - One of Nitrous' sons.

Zero - An excellent Ice Elemental Warrior; he has his own weapon - an Ice Spear, which was created by himself.

Justice - A supporting member of The Rebels; he opposes The Corrupt Knights, and teams up with Eric - who is another member of The Rebels.


Permissions in this forum:
You
cannot
reply to topics in this forum