Posts

: 442


Points

: 6890


Reputation

: 0


Join date

: 2015-02-01


Age

: 21


Location

: Ice Caves

Character sheet


Elemental Type

:

Ice Elemental




Health

:


(200/200)




Magic

:


(200/200)
on Tue Feb 02, 2016 2:43 pm
No Arch-Vile Mod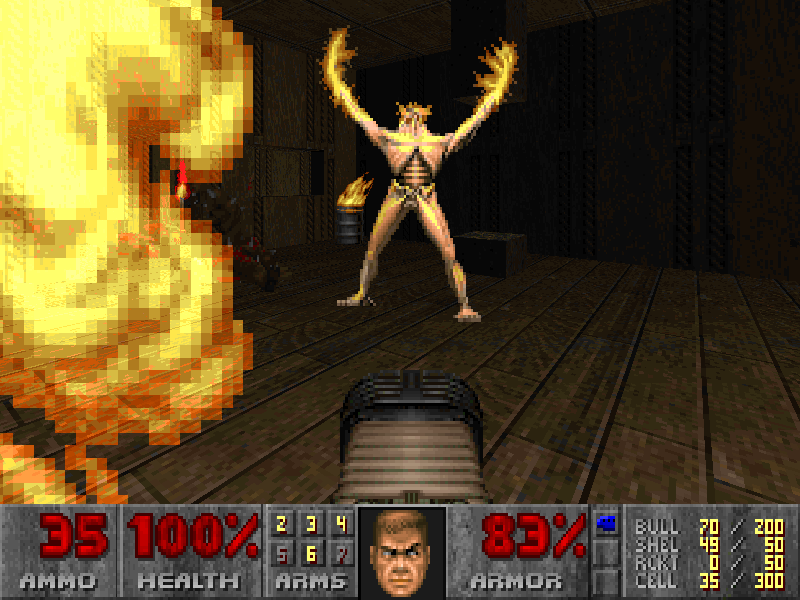 (Image was found on Doom Wiki; the screenshot was not made by me, so, if the creator of the screenshot sees this, and wants this picture off this site - let me know... I'm sorry in advance...)
But yeah...
Are you, like me,
VERY
tired of seeing Arch-Viles on Doom II levels? Are you tired about the level designers in a lot of .WADs placing this broken, glitchy enemy in their levels / maps? Have you had enough of seeing this enemy completely, and just hearing it start to move around - ready to troll you with its broken, glitchy flame attack, along with its ridiculously-low chance of being interrupted from pain when dealing with them?
Then look no further, my good sir!
With my knowledge of
DECORATE
, I can make a very simple mod for Doom II / Final Doom (On ZDoom / GZDoom / Skulltag / Zandronum in particular), that will replace any Arch-viles, with nothing - that's right! There won't even be any Arch-vile(s) on any map you play - as long as the mod is loaded!
Now you can finally breathe a sigh of relief - and maybe even enjoy the map that you played, where you last saw one of those Arch-Viles.

Another thing - can you actually believe that on Final Doom: The Plutonia Experiment, that, there's actually a
map dedicated to these enemies?!
 Well, don't worry about it now - that map should no longer have Arch-Viles
AT ALL
, if you load this mod up while playing on that map. 

Downloads:


I will work on the mod sometime, and release it here when it's ready.


Permissions in this forum:
You
cannot
reply to topics in this forum